A Cognitive Radio (CR) is a network that often senses and interacts with the surroundings to know the volatile spectrum handiness. It dynamically changes the network topology through dynamic spectrum handovers based on the user service requirements. In this article, you can get information on recent research challenges in cognitive radio networks!!!
In general, the two major components of CRN are the spectrum engine and policy engine. Here, the spectrum engine only collects the details about the available spectrum and decision to assign channels for services. Then, the policy engine follows up and processes the rules and regulations of CRN. As a unique property, the CRN utilizes frequency hopping to offer security. Also, it uses a proactive technique rather than using the reactive technique to hop among various channels. Now, we can see the important and fundamental operations of the CRN.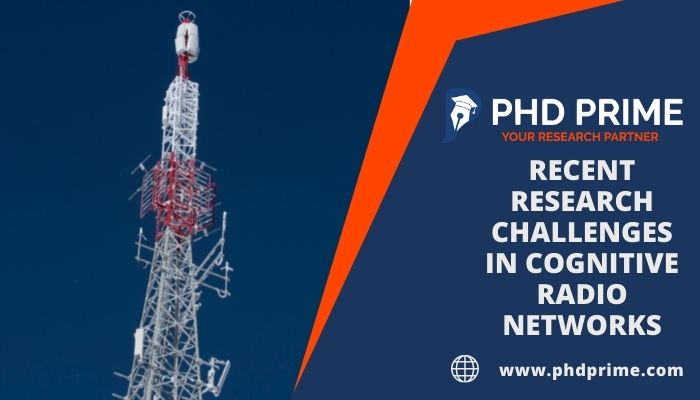 What are the functions of cognitive radio?
Easy to identify the geo-positioning by using a transceiver
Support the modification of modulation and transmit power features
Ability to sense the environment to detect the nearby sensors/devices while processing
Simple to perform user authentication and authorization processes
Ensure the security of the signals by cryptographic functions (encode and decode)
Next, we can see the working flow of the cognitive radio mechanism in four different stages. Here, it senses the environment and detects the unused spectrum. Then it assigns the spectrum to the secondary users who need the spectrum.
Life Cycle for Cognitive Radio Network
Sensing

It sense the real-world environment for monitoring wideband radio frequency

Analysis / Reasoning

It performs the feature detection and characterization for generating appropriate responses for service request

Adaptation 

Select the optimal response based on performance metrics

Acting 

Enable secondary users to access the spectrum for communications
For more clarity, here we have given the process involved in the OSI layers. These functions are very important in developing CRN-related applications and systems. Below, we specified the physical layer, transport layer, link layer, network layer, and application layer. 
OSI Stack for CRN 
Physical Layer

Collect the sensing details
Sense the available spectrum
Manage the sensed data and reconfiguration

Transport Layer

Perform the reconfiguration process
Manage the loss and handoff latency

Link Layer

Holds the scheduling data and reconfiguration
Link-layer latency

Network Layer

Reconfigure the network in the case of dynamic changes
Manage the route data for packet forwarding

Application Layer 

Meet the needs of quality of services (QoS)
Control and manage the whole application  
Research Challenges in CRN 
Now, we can see the key Research Challenges in Cognitive Radio Networks. These issues are very important when we deal with real-time applications. So, the current scholars seek effective solutions to break down these problems into pieces. Our researchers are ready to guide you in the following special cases. Further, if you are interested, we also let you know the other side of the current research areas.
Theoretical Issues

No efficient algorithms, tools and techniques

Modeling Issues

Require to solve the graph coloring issue in single-channel and multi-channel systems
Not adaptive with varying channel-width contiguous channels

Practical Issues

Availability of unparalleled different spectrum
Spectrum Fragmentation
Designed Protocol need to be load-ware, efficiency-ware, opportunistic, distributed, and more 
Detailed Research challenges of Cognitive Radio Network can be as follows. 
Spectrum Sensing:

It is the foremost process of CRN to identify the available primary and secondary users to assign the unused spectrum to SUs without interfering with PUs
For this sensing process, it focuses on several factors such as temporal metrics, power, modulation, frequency, etc. to identify the gaps in the spectrum band
In the previous study, the sensing methods detect the energy and features in every narrow frequency band. But, it is not a promising strategy in terms of energy since it faces several interference and noise issues.
Further, this technique also fails to identify and distinguish modulated signals, time-varying signals, frequency hopping signals, etc.
To overcome the energy detector problem, cyclostationary models are proposed for feature detection. But, it has complexity in computation and requires more time
Overall, the most challenging task in spectrum sensing is identifying the vulnerable primary signal in fast and low-cost environs.

Advance Spectrum Management:

In cognitive radio, we improve the spectrum consumption by letting unlicensed secondary users access the spectrum without affecting licensed primary users.
The major issue in this process is dynamic power and spectrum allocation. So, we need to use adaptive access control techniques to automate this process efficiently
In the previous study, heuristic methods are proposed which are not effective and centralized too.

Unlicensed Spectrum Usage:

There is an inconsistency in standard FCC spectrum distributions and real usage which indicates that a new approach to spectrum licensing is needed.
So, it requires the adaptive technique to increase the spectrum access and provide efficient incentives for the unlicensed spectrum utilization

Spectrum sharing strategies:

It is the assignment of an unparalleled spectrum for the unlicensed service requests received from the users.
Here, the interference aware opportunistic network faces many research challenges in cognitive radio networks in sharing of resources among multiple users.
Spectrum sharing issues in primary and secondary users are unique than the traditional networks
In specific, the secondary user's spectrum access has an infinite number of research ideas

Hidden node and sharing issues:

For preventing the hidden node issue from the secondary user, we need to take effective defense measures to make sure that spectrum allocation does not affect the licensed primary users.

Trusted access and security:

Due to the distributed nature of the cognitive radios, it is essential to protect system security.
Particularly to maintain the high-end security against the event attacks, application-specific privacy actions need to be taken in CRN

Cross-layer design:

CRN requires an advanced cross-layer approach to enhance its scalability nature.
This approach needs to meet the requirements of network structure, physical link quality, radio node density/interference to manage the data sharing in a cross-layer system.
In addition, it also has the threat of spectrum handoff in a dynamic cognitive radio environment. This can be prevented using an effective cross-layer design which ensures the QoS. 
What is 5G cognitive radio?
In recent days, 5G is considered to be the dominating technology in communication due to its incredible benefits. Compare to 4G, 5G is vastly better in terms of low cost, high speed, low power usage, and more. On the other side, CRN is effective in independently allocating the spectrum in the time of huge network traffic and service requests for optimal interaction. These two sophisticated technologies are currently tied up together to rule mobile communication.
Conversely, CRN undergoes security vulnerabilities because of the rapid growth of wireless technologies. So, it is difficult to attain high-level system performance. In the last couple of years, many security threats prevention measures taken been proposed to enhance the security level of CRN. The objective the CRN security is to safeguard the primary and secondary users in both licensed and unlicensed aspects. By knowing the importance of this area, our resource team has spent more time designing innovative research ideas that guarantee CRN security. These notions are sure to concentrate on CRN physical layer utilizing their CR cycle and varieties along with network protocol layers. 
What are the security aspects of cognitive radio?
It has several threats of domain-specific attacks due to its unique model and features. Furthermore, it has the threat of traditional attacks such as man-in-middle, eavesdropping, forgery, impersonation, tampering, etc. So, compare to other wireless communication networks, CRN has more risks in the network security and privacy of a system. Here, we have given the most common attacks that occurred in different layers with their characteristics.
All layers

Attacks

Software-defined radio (SDR) attacks
Cross-Layer attacks

Features

Interference on SDR hardware and software packages
Indented to attack the multiple layers in CRN

Medium Access Layer

Attacks 

Beacon falsification (BF) attack
Common control channel (CCC) attacks

Features

Synchronization Interference in IEEE 802.22 WRANs
Aiming for CCC via jamming, MAC spoofing, and congestion attacks

Physical Layer

Attacks

Spectrum sense-data falsification (SSDF) attack
Primary use emulation attack (PUEA)

Features

Erroneous monitoring related to spectrum sensing
Transmitters RF signal Emulation
In addition, we have also highlighted a list of security issues in the below section. Through this, we can design any number of research ideas. Further, if you need more information, you can approach us.
Security issues
Developing Secure infrastructure 

Learning-based Spectrum Sensing Techniques

Safety Primitives Methods

Improved Trust based Sensing Mechanisms
Validation of Transmitter
Realization of User/Device Identity
Identification of Primary user

Security Approaches

Observation of Intervention Level
Advance Energy Detection Techniques
Adaptive Spectrum Sensing
Signal Strength-based Intrusion Detection

Applications for Security

Location Identification
Secure Data Transmission
Automated Routing Techniques
Trust-based User Authentication 
Security Attacks in CRN 
Categories 
Attack Effect on Victim – Induced and Direct attacks 
Adversarial attacker Objective – Malicious and Selfish attacks
Operation Nature 

Sybil Operation
Synchronization and Control for Messages
Belief Operation
Protocol Vulnerability in Exploitation
Sensory Operation
In the above, we have specified the general classification of security in cognitive radio networks. In this, we were also given the primary attacks that have a high possibility of occurrence while spectrum processing. Let's have a look over them,
Attacks

CRN based Disruptive jamming
Belief Operation

Byzantine / SSDF Attacks
Objective Function (OF) Attacks

Protocol Vulnerability Exploitation 

ESCAPE and BOOST protocols security threats
Spectrum Aggression and Fragmentation attacks

Synchronization and Control for Messages

Frame offset falsification
Beacon falsification

Sybil Attacks

Software-based – Sybil-SSDF and Sybil-PUEA
Hardware-based –Sybil-SSDF and Sybil-PUEA

Sensory Operation 

Induced Sensory
Cooperation disruption (induced SSDF)
Link disruption (induced PUEA)
Direct Sensory
Cooperation disruption (denial SSDF)
Link disruption (denial PUEA)
Our research team is well-established in handling current security issues. So, we guarantee you that we support you in all aspects. Though CRN is successful in spectrum sensing, allocation, and accessing, it is at the risk of security threats. Many attackers are attempting to hack the channel while processing and handovers. So, it is highly essential to improve security in possible ways. Here, we have given you a few research ideas on a CRN security basis.  
Advance Cognitive Radios Anti-jamming Mechanisms
Optimized cross-layer design and security
Enhancement of CRN Security through Incentive Methods
Joint Connection and Power Control in System learning
Trust-based Learning Approach Adoption in Spectrum Sensing
Periodic based Distributed Spectrum Accessing Scheduling in CRN
To know more about current research issues in cognitive radio networks, reach our experts. We believe that you will make use of this opportunity of holding up our hands to have your successful project.