For earth monitoring, remote sensing plays a major role in constructing systems to capture and analyze changes in the environment. With an intention to find in-depth information about captured images/video, pre-analysis and post-analysis are performed over patterns. As a result, it yields accurate learned information from labeled / unlabelled input data. Therefore, the essence of this field is found in many real-time application areas.  Do you want to know a quick overview of current research updates about Pattern Analysis Remote Sensing? Then this page leads you in the right direction of research!!!
For instance: military defensive applications (object localization and detection), social developments (smart city), environmental (disaster prediction and monitoring), etc. Generally, data can be sensed from a remote place in so many ways. In the following list, we have given a few possible remote sensing ways which are currently in use.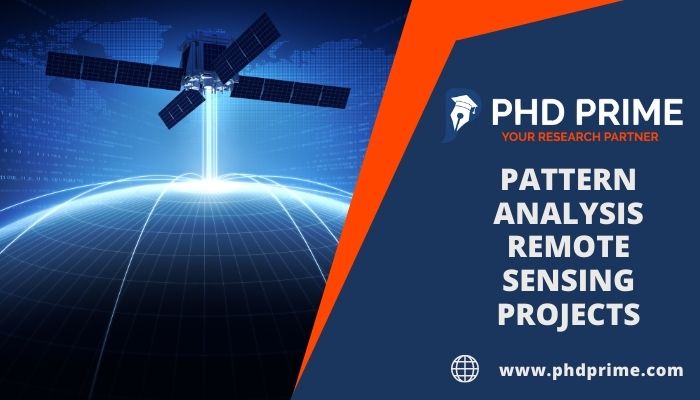 Outline of Remote Sensing (RS)
Based on Sensors
Based on Platforms 

Spaceborne
Airborne
Ground

Based on Applications 

Agricultural
Water Resources
Oceanic
Resources
Environmental
Forestry
Geologic
Meteorologic
Disaster

Based on Band Types

Infrared
Microwave
Ultraviolet
Visible Spectral

Based on Objects
Based on Scales
Based on Band Number

Multispectral
Laser
Panchromatic
Hyperspectral

Based on Recording
Based on Acquisition

Non-photographic
Photographic  
What is pattern recognition in remote sensing?
As mentioned earlier, remote sensing is the whole task where pattern recognition is part of it. By the by, it acts as a core technology to analyze the sensed information in numerical aspect. It makes the automated system make a decision over ground resolution element allocation in a specific class. For instance: the sensor act as a multispectral scanner in the case of LARS context. 
Overview of Remote Sensing in Pattern Recognition 
Now, we can see the overview of pattern analysis remote sensing. In general, the structure, shape, and representation of remotely sensed images vary more. So, it is a challenging task to process the unstructured large-scale information. This problem is widely solved by the pattern recognition process. Since it has a key player role in identifying available objects with their relations and spatial positions although this process is useful, it is also tedious to implement on real-world problems. In some cases, object extraction is a quite challenging task in satellite images due to variability. Here, the level of challenge is based on the types of scenes in an image such as rural and urban.
With an intention to achieve the best performance, pattern recognition techniques/algorithms compute the boundary lines of different classes. Actually, pattern recognition can be performed either by unsupervised classification or supervised classification. On one hand, the unsupervised classification method identifies and classifies patterns from unknown classes through historical data. For instance: clustering.
On other hand, the supervised classification method identifies and classifies patterns from known / predefined classes through historical data. For instance: a discriminant analysis. To make clarity on the pattern recognition process, here we have given you the basic procedure for implementing pattern recognition in remote sensing.
Steps for Pattern Analysis Remote Sensing 
Step 1 – Split into training data and database
Step 2 – Perform rule selection and decision function
Step 3 – If classification results are not satisfied then perform Step2 else check for decision rule
Step 4 – If the decision rule is satisfied then classify the samples else perform pattern recognition (i.e., start from step1)
Step 5 – Show aerosol classification results
The feature that is more useful for pattern analysis is shaped (like geometric properties, area, measurements, etc.), visual (like texture, color, etc.), and structure that is considered for pattern recognition. While using remotely sensed images, features type will differ based on scene representation. For your information, here we have discussed some object/feature classifications that are widely used in object detection over remotely sensed images.  
What are the features useful for remote sensing pattern analysis? 
Object Category – Airplane

Features – Various object sizes and scenes

Object Category – Storage Room

Features– Various shadows, object size, and colors

Object Category – Resident

Features– Various shadows, housing density, and colors

Object Category – City Building

Features– Various shadows, shapes and colors

Object Category – Parking Lot

Features – Various number of vehicles and scenes
Next, we can see the recent techniques used for remote sensing applications. All these techniques are more suitable for the latest technological advancements of remote sensing. Our developers have a strong technical basement to handle sort of the algorithms and methodologies used in pattern analysis remote sensing. By the by, these listed techniques are effective to solve evolving research problems of remote sensing.
If you are looking for the best solution for a challenging research problem, then approach our development team. We create new algorithms/techniques to crack complexity over your research problem. We support you in not only these techniques but also in significant algorithms. 
What are the techniques used for Remote Sensing? 
Fuzzy Spatial Analysis
Spatial Modelling
Surface Analysis
Grid / Raster Analysis
Point Pattern Analysis
Spatial Analysis (Geostatistical Tools)
Geometric Modelling and Buffers
Geometric Computation (perimeter, area, features distance, length)
In addition, we have given you the current leading research areas of remote sensing. These trends are largely attracted by active research scholars for their pattern analysis study. In order to make you aware of the current research direction, we have itemized these trends. Similarly, we have gathered global trends by communicating with our worldwide connected experts. If you are curious to know other latest demanding research trends, then contact us. We are ready to share research updates on your requested research area.  
Latest Trends on Pattern Analysis Remote Sensing Projects 
Multi-Temporal and Multi-Modal Pattern Recognition
Reduction of Dimensionalities using Advanced Techniques
Pattern Recognition over Multi-spectral and Hyperspectral Image
Airborne Thermal Data Investigation and SAR Image Analysis
Feature Learning, Extraction, and Selection in Large-scale Data
Earth Monitoring in Satellite Sensed Image using Deep Learning
Furthermore, we have also given you some important research topics in remote sensing. All these topics are recently collected in our current pattern analysis study in the remote sensing field. Since we frequently do literature reviews on recent research papers of remote sensing to know the latest research direction of pattern recognition concept.
Like the below list, we have a huge repository of creative research topics collection. When you share your research interest with us, we make you understand the present research trends in remote sensing. 
Top 15+ Research Pattern Recognition in Remote Sensing  Topics
UAV Image Analysis and Processing
Sensed Image and Natural Language Mapping
Spatial-Temporal Pattern Recognition in Remote Sensing Images
Prediction and Prevention of Natural Disaster
Data Analysis in Hyperspectral and Multi-spectral Images
Environmental Change Recognition in Satellite Images
Moving Object Counting and Recognition in Video Processing
Remote Sensed Data for Deep Network Architectures
Man-Made Object Recognition from UAV Platforms
Pattern Recognition in Satellite and Multi-scale Aerial Images
2D / 3D Patterns in Multimodal and Unimodal Sensed Data
InSAR Data Learning and Flow Detection (currents, traffic, glaciers, etc.)
4D / 3D Models for Spatial Pattern Detection in Remote Sensed Data
Image Fusion and Segmentation in Hyper / Multispectral Image
Image Scene Recognition using SAR-tomography and SAR- radargrammetric
In recent days, the gradual growth of pattern recognition makes more demands in assessment tools. Since this helps to measure algorithm efficiency by performing the comparative study. In order to evaluate the performance accurately, one should choose the best-fitting performance evaluation metrics. Based on the proposed algorithms, one can select the metrics.  
Generally, pattern recognition and extraction processes are of complex nature. So, it is essential to compare the performance with existing techniques to meet reliable and better results.  
Comparison Metrics for Pattern Analysis in Remote Sensing 
Majorly, precision and recall are considered significant metrics in pattern analysis remote sensing projects.
Precisionrepresents the retrieved instances fraction and Recall represents retrieved instances ratio (in approximate).
Nevertheless, it is not enough to compare a number of correctly recognized patterns with related ones. Therefore, it is necessary to study the exact object location/area. In other words, consider overall pixels spanning over these objects.
Last but not least, now we can see the important datasets used in pattern analysis projects in the remote sensing field. For code execution, dataset selection is equally important to develop tools and performance metrics selection. As a matter of fact, the dataset act as a core aspect to achieve your target results. There are many open-source and commercial datasets available for pattern recognition.
Once you connect with us, we help you to choose the right one for your project based on your proposed research idea. Below, we have given you a few extensively used datasets for pattern recognition.  
Datasets for Pattern Analysis in Remote Sensing 
ESA's Sentinel Data

Dataset – Sentinel – 3, Sentinel – 2, Sentinel – 1
Name – Copernicus Open Access Hub (old name: Sentinels Scientific Data Hub)
Specification – In-Orbit Commissioning Review (IOCR) for USGS Earth Study

SpaceNet 4: Off-Nadir Buildings 

Dataset – 25 WorldView 2 images (0.3m res.) and 125k building footprints (Atlanta)
Specification – 5 to 55 degrees off-nadir angle

NASA Earth Observation

Images – Ocean, Environ, Energy, Atmosphere, Land, etc.
Datasets – Above 50
Time-Interval – Monthly, Daily, and Weekly
Image Type – GeoTIFF, PNG, Google Earth, and JPEG

University-1652: Drone-based Geolocalization 

Dataset – 1652 University Constructions
Image Source – Satellite, Ground Camera, and Drone

Aerial dataset of Floating Objects (AFO)

Dataset – 3600+ drone images
Specification – 6 Classes, 50+ scenes and 39990+ objects
Classes – Boat, Kayak, Bouy, Human, Sailboat, Wind / Sup-board

FloodNet Challenge

Dataset – 2343 UAV images
Category Range – Hurricane Harvey to Landcover labels
Specification – 10 Classes and 2 Competition Tracks
Classes – Road-flooded, Building flooded / non-flooded, etc.
Tasks – Condition Recognition, Object Counting, Semantic Flood classification, etc.

xView 2018 Detection Challenge 

Category Range – Helicopter to Stadium
Model – Pytorch and Tensorflow
Instances – 1 Million Instances
Data Format – COCO
Specification – Worldview-3 imagery (0.3m res.)
To sum up, we hope that you are clear in all our conveyed latest research and development details of pattern analysis remote sensing projects. Further, if you need to know more information about the latest research topics in up-to-date research areas then communicate with us. As well, we give keen assistance in the required phase of research. Moreover, we also support you to develop your interesting research ideas in the best-fitting development platform and phd implementation tool. Then, we also extend our support in thesis/dissertation writing with an unlimited revision guarantee. So, create a bond with us to avail our friendly research services in your desired research area.