Fifth Generation (5G) network aims to connect the whole things in high-speed through the virtual network for forming a new kind of network. Reach out this space to know more information about latest projects on 5G technology. The 5G system design is obligated with very different and great requirements which are linked up with four main megatrends. They are as follows,
High cloud's dependence
The explosion of data traffic
Rapid and huge-scale of devices
The arrival of new mobile converged services
"5G has the Capability to concurrently link over one million devices each square kilometer"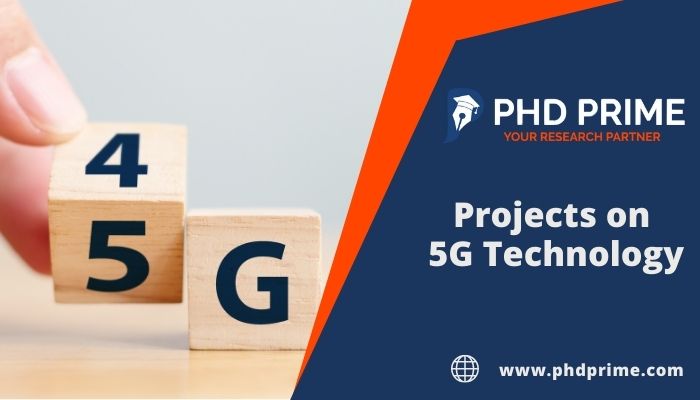 What is the Next Generation of Wireless Technology?
Every so often, the wireless industry spread out a new standard of cellular communications for fast-sharing huge data without the obstacle. By this time, the "5G" network is under development also it is called the fifth generation to encrypt and decrypt the transferring data over radio waves.
Boon for IoT Devices 

In real-world scenarios such as delivery UAVs, driverless or smart cars, IoT sensors let the vehicles find available parking areas and to monitor traffic lights that control the traffic flow
Though in a smaller amount of interruption, IoT sensors can be collect the data faster with the precise readings

New wave for AI 

By empowering the 5G network, one can go ahead with numerous real-time Artificial Intelligence models to enhance communication.
For rapid computation and processing of massive data sets, Machine learning algorithms are used.
Let deeply discuss the 5G communication to have unique Projects on 5G Technology. The first and foremost thing in the 5G network is three important sorts of services as URLLC, mMTC, and eMBB with their characteristics. 
Research Areas in 5G Technology
URLLC (Ultra-Reliable and Low Latency Communications)
mMTC (massive Machine Type Communications)
eMBB (enhanced Mobile BroadBand)
In order to back above specified services, KPIs (Key Performance Index) are provoked based on the following characteristics,
Energy and Spectrum Efficiency
Link Density
Traffic Volume, Speed and Mass
Flexibility
User Experience and Peak Data Rate
Delay
By means of these KPIs and service setups, 3GPP analyzes the 5G system's principles, needs, and use cases. On the road to satisfying the 5G needs, a network slicing mechanism is used to provide various logical systems over a partly shared network framework. Here, every network slice illustration signifies a wholly autonomous network that permits diverse architecture placement in parallel slices.
Especially, the enriched 5G and 5G beyond move towards evolving edge and Unmanned Aerial Vehicles where the edge relies on fog, access points, switch, routers, and other network entities. For the most part, it supports all kinds of data sharing like ground or flies vehicle communication. Since it turns out to be a focused study, we have implemented numerous projects on 5g technology to build the best PhD Thesis. 
Research Ideas for Projects on 5G Technology
Prediction of Network Traffic
AI-based Web Service Discovery
Edge Computing Load Balancing
Orchestration and Application / Resource Scheduling
Security Solutions using Blockchain Mechanism
And much more
In future wireless communication, UAVs may face many risks such as high delay, low bandwidth, lack of consistency and accessibility. In order to overcome these issues, 3-D planning, analysis, and optimization techniques are followed.
As well, we can carry out elevation beamforming with the Full Dimensional Multiple Input Multiple Output (FD-MIMO) approach to find the node height for the proper network operations. Now, we can see about the important research topics in UAV. 
Research Ideas in UAV 
Security in OSI Layer Model
5G oriented Slicing of Network
Energy-Efficient Data Transmission
Co-occurrence of Floor and Ariel Users
Optimal 3D UAV Base Station Deployment
Quality of Service (QoS) based command control System
Efficient Pilot Contamination Minimization
Trajectory optimization using Machine Learning (ML)
Cellular connectivity in Unmanned Aerial Vehicles (UAVs)
And far more
So far, we have debated about projects on 5G technology happening research areas with their future scope of research direction. And also, we have mentioned that we support you in research and development along with fine-tuned thesis paper witting service. For your information, here our experts have given some essential checkpoints that we follow in the creation of perfect 5G Research Projects.
What are the Steps in project report writing?         
Constructive objective statement 

We construct the research statement, which is more informative

Make it precise and limited

We describe the topic in short and crisp to overcome defending problems in the future. Since the most typical issue in the objective statement is they are too detailed and length which they could claim too much.
As a result, we ultimately answer the question "how you tackle the problem?" for the fulfillment for the research committee.

Make clear project

We make sure that taking a stand on the system model should not go out of the subject line.
Next, we explicitly convey what you want to mean in a clear-cut explanation
Further, if you need more details about our upcoming Projects on 5G Technology, then make a bond with us for best thesis writing service. We will let you know the growing technical innovation in the 5G Network.