SDN is a mechanism of networking to give entire visibility of network using open protocols (OpenFlow) to intelligent control over the network edges. It is a centrally programmed process for controlling network access of switches and routers.  This page discusses the emerging SDN Project Ideas with their important future research areas.
The network model of SDN can vary based on the user requirements and several deployed nodes in a network. Two main purposes rely on the vast utilization of SDN in the standalone or integrated network(s).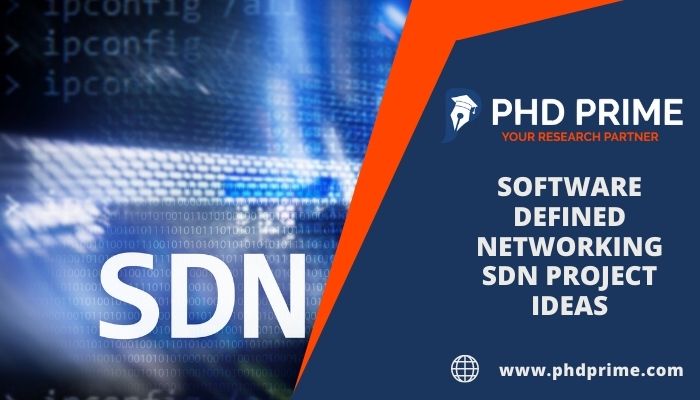 What issues does SDN attempt to solve?
Facilitate to control vast user/network traffic
Effective virtual switches deployment
Supports both critical and non-critical applications
Applies the appropriate network usage
Give the resources for running tasks
The goal of SDN is to enhance the network control at any instance without affecting network performance. Also, it encloses various features to satisfy the frequently changing research requirements with quick responses. Let's have a glance over these criteria which bring new aspects in future SDN Project Ideas. 
What are the criteria to design SDN? 
Scalability – Due to vast information, nowadays network devices are expected to scale up widely based on the organization requirements devices. So, it is essential to assure that the scalable system does not affect the functions of a network of any size. In the case of distributed controller management, it results in minimized traffic overhead else it may address to a centralized activity manager.
Robustness – Even though the network failure or infrastructure variation occurs, it should not affect the usual operations of the network. A robust system should ensure the needed performance despite network disabilities. For instance: power outage and node instability/mobility.
Energy Efficiency – It focuses to save energy by avoiding unwanted energy/power wastage. Also, it let the system perform its tasks at constrained power. As a result, the long-term execution of this process will improve the network lifespan.
Adaptability – It assures the capability of the system to fulfill the task requests and topology changes. It is important to make the system adaptable which work effectively in frequent unpredictable network state. Also, it should hold the ability to re-task and re-configure
So far, we have debated on SDN characteristics that stimulate future networking. Also, we let you know the reasons for SDN's increasing growth in the research community. Now let's see about the important current research sdn project ideas.  
Research Topics in SDN 
Resource orchestration
Network Traffic Offloading
Recovery of Device / Network Failure
Security in Network Architecture
Optimized Dynamic Resource Provisioning
Dynamic Service Function Chaining
Network Service Placing, Routing, and Provisioning
To the great extent, SDN gives thorough support in other network areas for network control. For your awareness, we have given you important SDN integrated research areas in the following list,
Research Areas in SDN
5G Network
Heterogeneous networks
SDN Cellular Ad hoc Network
Software-Defined Optical Network
5G Radio Access Network Slicing
Distributed Cloud-based IoT
Multi-Access Edge Computing (MEC)
SDN process outcomes can be evaluated based on the simulation and performance metrics. Since as a complete network, it can be implemented through any common network simulators. For instance, we can say networking tools Mininet, OMNeT++, NS3, and many more. Moreover, our developers have shared one sample SDN project ideas with their implementation plan. 
LATEST SDN PROJECT 
Project Title: SDN/NFV-5G Cloud: Advance AI-Based Defense Strategy for Multi-layered Intrusion Avoidance 
Environment
SDN/NFV enabled 5G Cloud Environment
Network Entities
Mobile Users, IDP Agent, Base Station (BS), Domain Controller, Smart Controller, Switches, Trusted Third Party (TTP), and Virtual Network Function (VNFs)  
Proposed Work
The main aim of this proposed work is to provide the secure SDN/NFV enabled 5G Cloud system against the multi-layered intrusion using an AI-Based Defense Mechanism. Here, the Smart controller and TTP hold two private key generators. And also, this network is designed with the following five layers for detecting intrusion in all layers,
Data Collection Layer
Switches Layer
Domain Controllers Layer (DCs)
Smart Controller Layer (SC)
Virtualization Layer
Our proposed scheme concentrates on various attacks as DDoS, IP Spoofing, Control Plane Saturation, Flow Table Overloading, and Host Location Hijacking  
Data Acquisition Layer:
Four-Ԛ-Curve Algorithm – user register their credential in TTP
Parameters: ID, Password, IP address, and MAC address
TTP generate a secret key for registered users and pass on to BS
BS generates Pseudo-Random Number
BS verifies user by Pseudo-Random Number
Detect and Overcome IP address spoofing, DDoS, and Man-in-the-Middle attack
Switch Layer: 
Deep Reinforcement Learning – To avoid flow table overloading attack
Parameters:Packet Forward Rate, Packet Drop Rate, Packet Received Rate, Packets Time Interval, and Duplicate Packet Rate,
Game Theory Approach – Select optimal switch
To overcome flow table overloading attack
Domain Controller (DCs) Layer:
Shannon Entropy function – Classify the packets
Normal Packets – Forward packets to cloud through SC
Suspicious Packets – Forward packets to VNF
Virtualization in NFV Infrastructure (VNF) Layer:
Growing Multiple SOM – Classify the packets

Normal and Malicious Packets
Detect DDoS Attack 
Smart Controller (SC) Layer: 
Parameters: Host MAC, Location Path ID, IP Address
Detect Host Hijacking Attack
In conclusion, it is evidenced that our proposed work gives better performance than the traditional methods using the following metrics,
Delay
Packet Loss Rate
Holding Time
Detection Rate
Switch Failure Rate 
Top 15+ Interesting SDN Project Ideas (Research Title)
An effective mechanism for Queueing Theoretic Approach aimed at Performance-Aware Modeling of Sustainable SDN Control Planes
Innovative method for Achieving Near-Optimal Traffic Engineering used by a Distributed Algorithm in Hybrid SDN
An effectual function for Cross-layer QoS enabled SDN-like to publish/subscribe communication infrastructure aimed at IoT
A new design function for SDN Applications and Plugins in OpenDaylight Controller
An innovative method intended for SDN-based heterogeneous network architecture with Multi-Controllers
The novel approach for Hierarchical Edge-Cloud SDN Controller System With Optimal Adaptive Resource Allocation aimed at Load-Balancing
An effectual performance for Automated Permission Model Generation intended for Securing SDN Control-Plane
A novel method of RYU SDN Controller Testbed for Performance Testing of Source Address Validation Methods
An effective method for Centralized Trust-Based In-Band Control intended for SDN Control Channel
The novel approach for Detection and Mitigation of Evil Twin Attack in SDN Enabled WiFi scheme
An innovative method for Reduction of Energy Consumption based on Replacement of Routers with SDN Switches
A new technique SDN Perspective on Multi-Connectivity and Seamless Flow Migration
An innovative mechanism for SDN-Based on Security Enforcement Framework for Data Sharing Systems of Smart Healthcare
The novel approach of Analysis for Availability Model Based on Software Aging in SDN Controllers with Rejuvenation
Effective performance for SDN-Enabled Pseudo-Honeypot Strategy for Distributed Denial of Service Attacks in IIoTs
A novel approach of SDN-Based on Caching Decision Policy for Video Caching in Information-Centric Networking
The newfangled process of Dynamic resource virtualization method for survivability enhancement based on SDN
An effective method for Locally automated restoration in SDN disaggregated networks
A new technology Scalable and Error-Tolerant Solution for Traffic Matrix Assessment in Hybrid IP/SDN Networks
Further, if you are interested to know more phenomenal SDN Project Ideas, then engage with us. Your support in every step of your research career.